Here is a list of all the Chinchillas that I currently have for sale. Please, before inquiring about my available chinchillas, see the

Sales Information

page. I would appreciate only serious inquiries about the chins that are for sale. Thank You! AT THIS TIME I REALLY NEED TO REHOME MY REMAINING CHINCHILLAS- PLEASE FEEL FREE TO MAKE AN OFFER ON ANY OF THE BELOW CHINCHILLAS!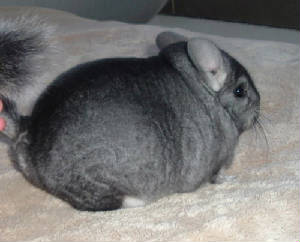 T-6 Standard EBC male $150- Out of a Reserve Female of Show Extra Dark Ebony (from Shoots National GSC, DWSW, and Somavia lines), and a very large Extra Dark Shoots Standard out of one of Ralph's best males. T-6 is an exceptional young male!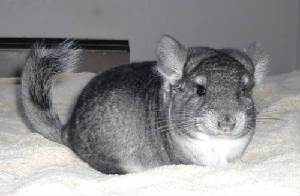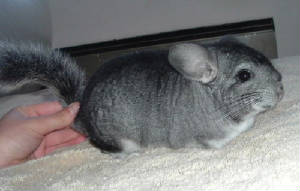 V-1 Standard male, $115- born 2/26/08 out of Neeka, a big, beautiful Standard from all Shoots lines, and Gemini, a huge Shoots Extra Dark Standard. He has matured very nicely; real dark with beautiful conformation and fantastic fur like his parents! The above pictures do him NO justice as he has grown, filled out and darkened considerably since then! He is currently caged with V-5; they can go together for a discounted price, or separately. If they are sold together, I can throw in the 24x18x24" cage they are in as well as the usual supply of food, so this would be a great "starter kit" for someone just getting into chins!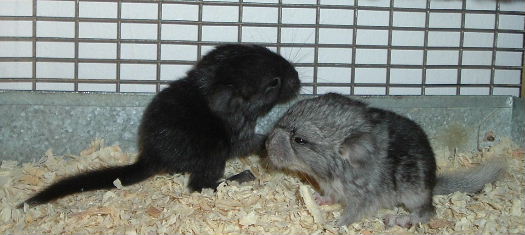 V-5, Standard EBC male, DOB 9/14/08 $115- This boy is full brother to T-6 (see above), out of Tanzy (big Reserve Female of Show Extra Dark Ebony bred by me from Shoots National GSC, DWSW 1st Place, and Somavia lines), and Gemini (AWSOME, huge Shoots Extra Dk Standard out of one of Ralph's best males). He is the kit on the right in the above picture. If sold with V-1, his male cagemate, the price will be discounted to $200 for BOTH and I can also include their cage free of charge!
"Neeka" Standard female, DOB 1/12/07 $150. Proven twice, just gave birth to her second litter on Oct 29th (a beautiful 62g Standard female). Neeka is a good sized female with very nice fur and conformation, comes from all Shoots lines. See "my chinchillas" page for pictures. If sold with her daughter (they are living together) I can discount the price to $250 for both.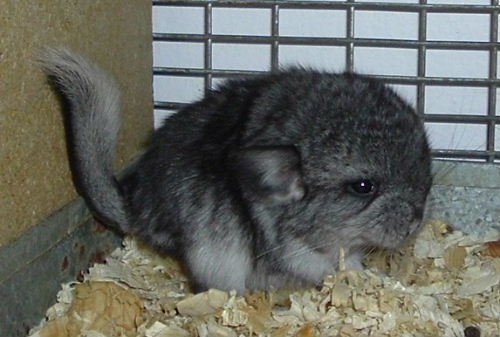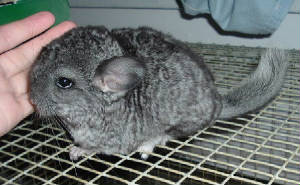 3 hole Shoots breeding run- $45 obo. Great condition, comes with glass water bottles, feeders, has metal 2.5" pans, solid partitions, jump-hole covers. Only a few years old and was only used about half that time.