Here's all of our '05 kits! Most of these pictures were taken the day they were born.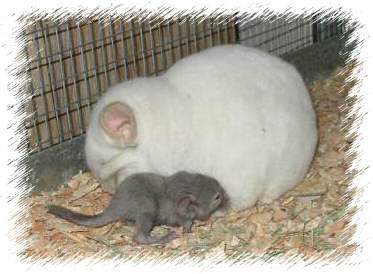 On January 26th, Roxy (TOV HBPW) gave birth to a beautiful 52g TOV Tan female. "Elara" was sold to Marie in AL. Her sire is Cosmo (Homo Ebony).
On March 31st, Sierra delivered an adorable 75g Black Velvet male. "Sisko" was sold to Kristi in OR. His sire is Rainier.
On June 7th, Gracie gave birth to a 50g Standard male, a 65g Standard female, and a third kit that was stillborn (35g female White Mosaic). Sadly, we lost the male two days after he was born. The sire is Casper. "Candice" was shown at the '06 West Coast Chapter show and took 1A (Phase Champ). She was sold to Cyndi in IL.
On October 12th, Sierra (BV) gave birth to a 53g Black Velvet male and also 48g TOV? White Mosaic female who, unfortunately, did not live through the night. The sire is Casper (WM). "Hasu" was sold to Andrea and turned out very nicely!